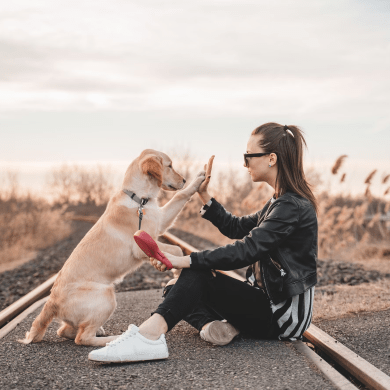 About
If you're a dog owner looking for a top-notch training experience for your furry friend, Train your dog with Stacey is the perfect choice for you. Their trainers have a proven track record of success and are dedicated to helping dogs become the best version of themselves.
Train your dog with Stacey offers a range of services to suit the unique needs of each dog and their owner. Their puppy training program focuses on socialization and basic obedience training to ensure that your puppy develops good habits early on. They also offer advanced obedience training for dogs who have mastered the basics and are ready to take their training to the next level.
In addition to obedience training, Train your dog with Stacey specializes in behavior modification for dogs with anxiety or aggression issues. Their trainers have experience working with dogs of all breeds and ages and use positive reinforcement techniques to help dogs overcome their challenges and become well-adjusted, confident companions.
One of the things that sets Train your dog with Stacey apart from other dog trainers is their emphasis on building a strong bond between the owner and their dog. They believe that this bond is essential to achieving long-term success and work closely with each owner to ensure that they are equipped with the knowledge and skills needed to continue training at home.
If you're interested in learning more about Train your dog with Stacey or scheduling a consultation, you can reach them via phone, email, or social media. Their trainers are always happy to answer any questions you may have and help you get started on the path to a well-trained, happy dog.
Shopping with Train your dog with Stacey is a breeze! You can call them at (813) 215-8003 or head over to their website, http://trainyourdogwithstacey.com/ for more information. Conveniently located in FL, Train your dog with Stacey is your go-to destinationfor all your Dog trainer needs. All visitors are welcome to drop by in-person to meet the friendly staff and take a tour. Discover a wide array of products in stock and services at Train your dog with Stacey – for more information about products & services offered, visit http://trainyourdogwithstacey.com/. The website features detailed descriptions of everything currently available, as well as information about the Train your dog with Stacey team of professionals. If you have any questions, comments, or feedback, don't hesitate to reach out by calling them at (813) 215-8003.
Hours
Monday

9 AM to 5 PM

Tuesday

9 AM to 5 PM

Wednesday

9 AM to 5 PM

Thursday

9 AM to 5 PM

Friday

9 AM to 5 PM

Saturday

9 AM to 5 PM

Sunday

Closed