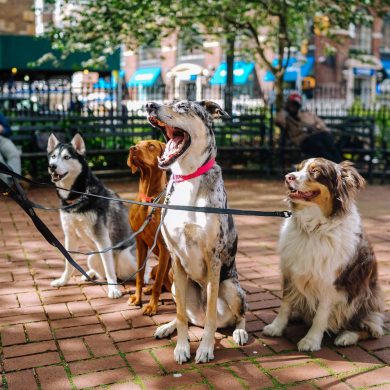 About
Looking for a reliable and trustworthy pet sitter for your furry family members? Look no further than Mels happy wags!
Mels happy wags offers a wide range of pet sitting services for a variety of pets, including dogs, cats, birds, and small animals. This means that no matter what type of furry, feathered, or scaled friend you have at home, Mels happy wags can help take care of them while you're away.
Mels happy wags sitters are required to have completed training and certifications in animal care, ensuring that your pets receive the highest level of care and attention. This includes knowledge of animal behavior, nutrition, and health, as well as the ability to handle any potential emergencies or issues that may arise.
Mels happy wags understands that every pet has unique needs and preferences, and their pet sitting services are flexible and customizable to meet those needs. They offer a range of services, including feeding, walking, playing, and administering medication if needed. They can also provide overnight stays in your home, ensuring that your pets receive round-the-clock care and companionship.
Mels happy wags is dedicated to maintaining open communication with their clients. They will provide updates on your pets' activities and well-being through photos, videos, and messages, giving you peace of mind while you're away.
In addition to their certifications and expertise, the pet sitter has years of experience working with animals, giving them the knowledge and intuition to recognize and respond to any potential issues or concerns. This means that your pets will be in safe hands and receiving the best possible care.
Finally, Mels happy wags is proud to have a proven track record of satisfied clients. They have received glowing testimonials from pet owners who appreciate their care and attention to detail. Mels happy wags's commitment to providing high-quality pet sitting services is reflected in the positive feedback they receive from their clients.
In conclusion, Mels happy wags is the perfect choice for pet owners who want the best possible care for their furry family members. With their certifications, experience, and dedication to providing excellent service, you can trust that your pets will be in good hands while you're away. Contact Mels happy wags today to learn more about their pet sitting services and how they can help take care of your beloved pets.
Shopping with Mels happy wags is a breeze! You can call them at (954) 682-3515 or head over to their website, https://mels-happy-wags.business.site/ for more information. Conveniently located at 13530 SW 6th Pl in Davie, Mels happy wags is your go-to destinationfor all your Pet sitter needs. All visitors are welcome to drop by in-person to meet the friendly staff and take a tour. Discover a wide array of products in stock and services at Mels happy wags – for more information about products & services offered, visit https://mels-happy-wags.business.site/. The website features detailed descriptions of everything currently available, as well as information about the Mels happy wags team of professionals. If you have any questions, comments, or feedback, don't hesitate to reach out by calling them at (954) 682-3515.