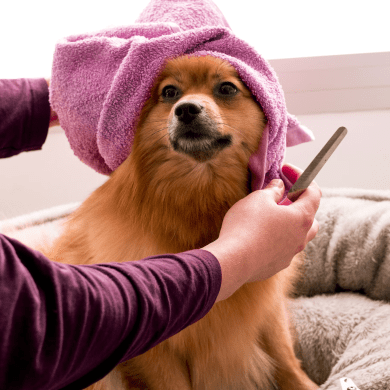 Sandy Paws in Ocean City, MD
12823 Coastal Hwy, Ocean City, MD 21842
(443) 664-2658
About
Located in Ocean City, Sandy Paws is a one-stop-shop for all your pet grooming needs. With a team of dedicated and skilled groomers, they offer personalized grooming services that cater to the unique needs of your furry friend.
What makes Sandy Paws stand out from other grooming salons is their commitment to using natural and organic products. They understand the importance of using non-toxic products on your pet's sensitive skin, and they only use the highest quality products that are gentle and safe.
Their menu of services includes bathing, haircuts, ear cleaning, and nail trimming, and they also offer add-on services such as paw treatments and teeth cleaning. They take the time to understand your pet's needs and preferences, and they customize their grooming services accordingly to ensure a comfortable and stress-free experience.
At Sandy Paws, they pride themselves on providing affordable and transparent pricing. They offer various grooming packages and add-ons to fit your budget and your pet's needs, and they never add hidden fees or charges.
Sandy Paws offers convenient online booking and walk-ins are welcome. If you have any questions, you can contact Sandy Paws via phone, email, or social media.
Sandy Paws is not just a grooming salon, but a community of pet lovers who are passionate about their work. They treat every pet as if it were their own and strive to create a warm and welcoming environment for both pets and their owners.
When it comes to your pet's grooming needs, trust the experts at Sandy Paws. Their commitment to quality, natural products, and personalized services will leave your pet feeling and looking their best.
Shopping with Sandy Paws is a breeze! You can call them at (443) 664-2658 or head over to their website for more information. Conveniently located in MD, Sandy Paws is your go-to destinationfor all your Pet groomer needs. All visitors are welcome to drop by in-person to meet the friendly staff and take a tour. Discover a wide array of products in stock and services at Sandy Paws – check out their website for more information about products & services offered. The website features detailed descriptions of everything currently available, as well as information about the Sandy Paws team of professionals. If you have any questions, comments, or feedback, don't hesitate to reach out by calling them at (443) 664-2658.
Hours
Monday

10 AM to 6 PM

Tuesday

10 AM to 6 PM

Wednesday

10 AM to 6 PM

Thursday

10 AM to 6 PM

Friday

10 AM to 6 PM

Saturday

10 AM to 6 PM

Sunday

10 AM to 4 PM